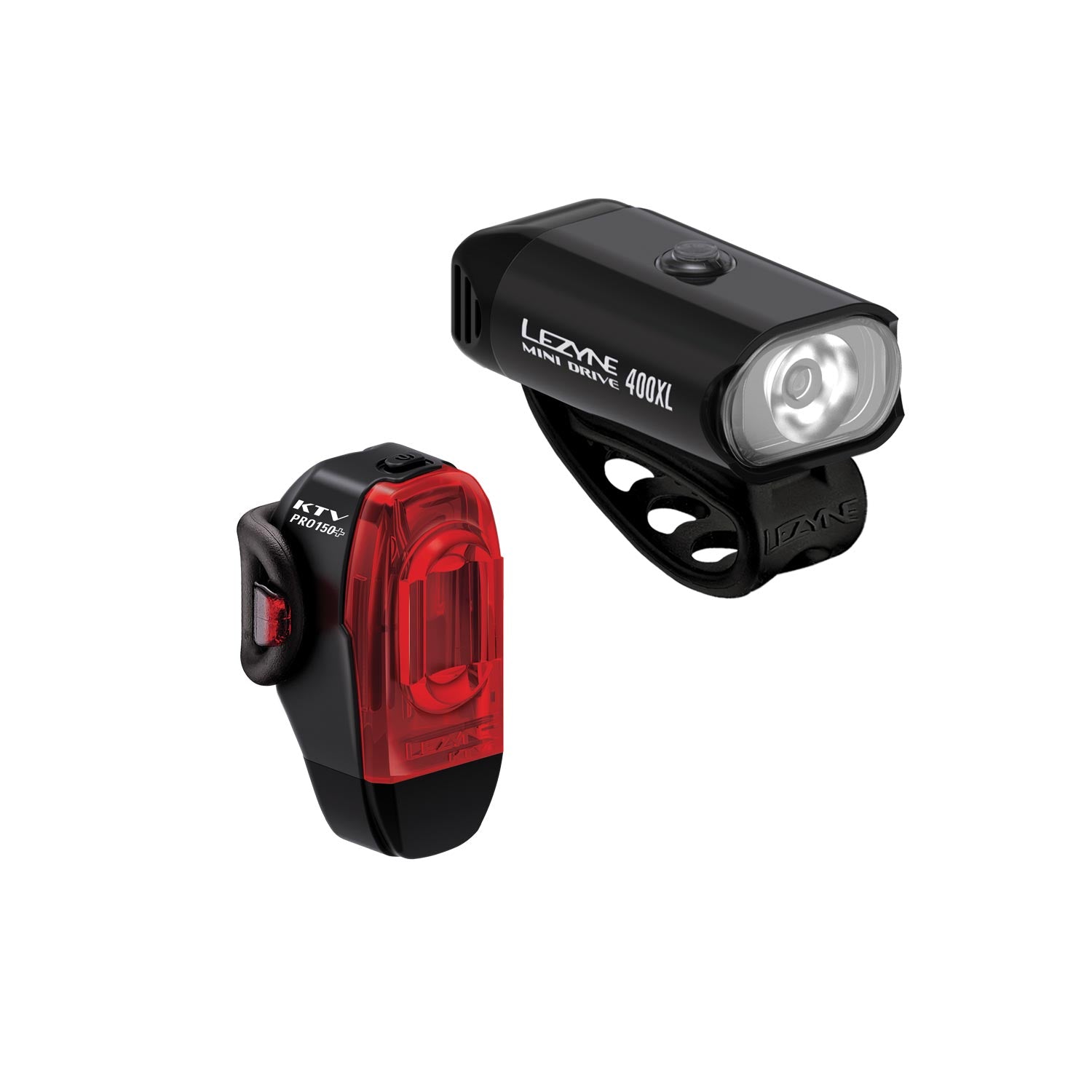 MINI DRIVE 400XL / KTV DRIVE PRO+ PAIR
---
FRONT LIGHT:
The Mini Drive 400XL is a compact, durable bike light constructed from CNC-machined aluminum. It's equipped with a high-output LED emitter capable of providing up to 400 lumens as well as a Daytime Flash mode. It features eight output modes and cutouts for side visibility as well as an impressive max runtime of 20 hours. Charging is made simple with an integrated, cable-free USB stick, and it securely straps to a variety of handlebar shapes and sizes.

REAR LIGHT:
The KTV Drive Pro+ Rear is a compact, aero seatpost-compatible rear bike light providing up to 150 lumens and six output modes. It offers up to 20 hours of max runtime and a highly disruptive Daytime Flash mode.

The light utilizes our Wide-Angle Optics lens design to provide 270° of visibility, durable, rigorously tested to IPX7 Waterproofing standards, and an integrated USB stick allows convenient cable-free recharging.

Note: These lights are not being distributed within the German market.
SKU: 1-LED-24P-V704
MINI DRIVE 400XL SPECS:
Battery Capacity (mAh):
650
Dimensions:
67.8mm, 37.6mm, 27mm
Features:
IPX7, Daytime Flash
KTV DRIVE PRO REAR SPECS:
Max Runtime:
19 hours 30 minutes
Dimensions:
64.7mm, 45mm, 38.9mm
Features:
IPX7, Daytime Flash
MINI DRIVE 400XL LIGHT MODES:
KTV DRIVE PRO REAR LIGHT MODES: