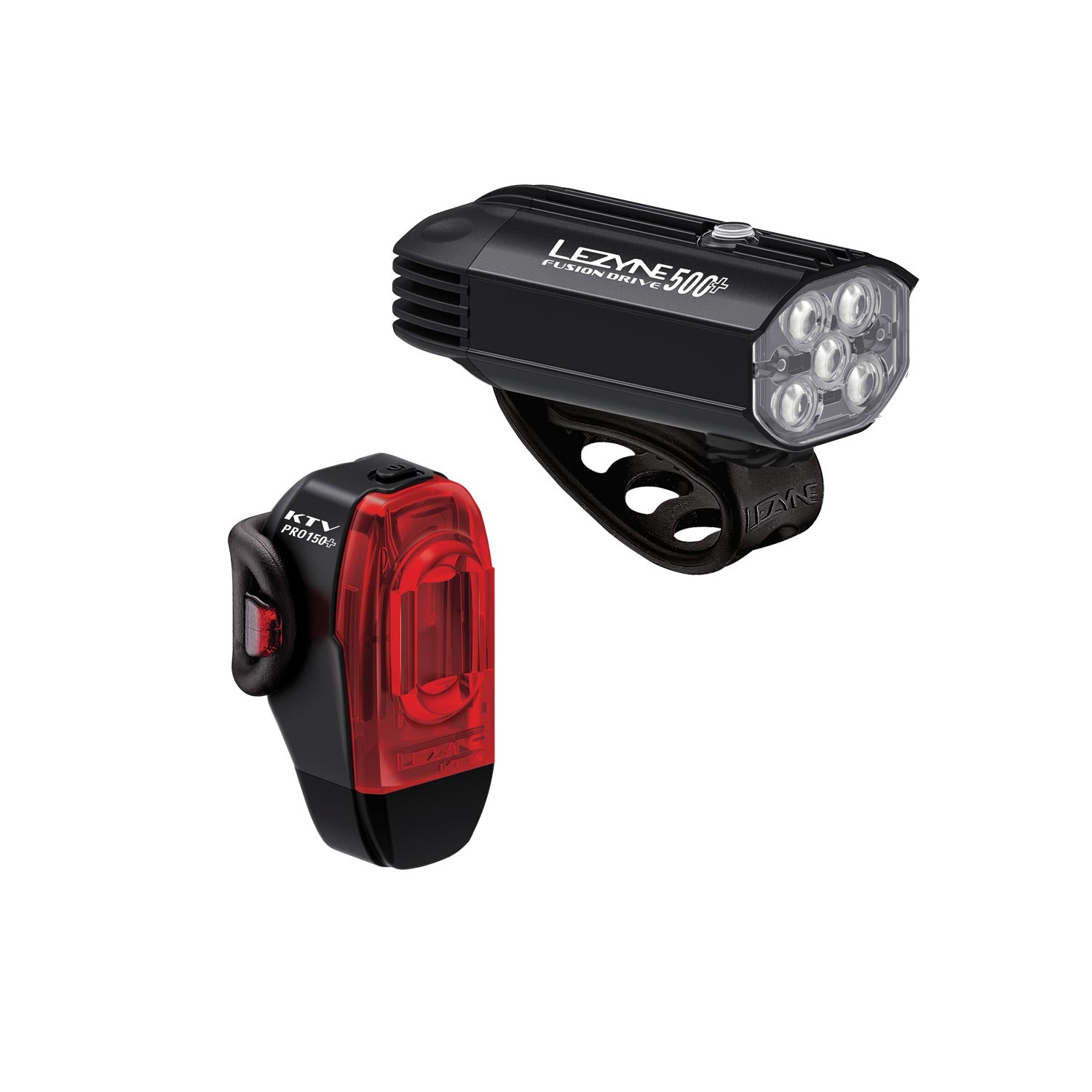 FUSION DRIVE 500+ / KTV DRIVE PRO+ PAIR
---
FRONT LIGHT:
The Fusion Drive 500+ is a feature-packed visibility solution. With its impressive 500-lumen output and a maximum runtime of 35 hours, this light ensures exceptional visibility and reliability.

This light offers six output modes, including highly disruptive Daytime Flash ensuring maximum visibility during daylight hours, and the intelligent Power Indicator displays battery runtime. The CNC-machined aluminum construction with cooling fins guarantees durability and efficient heat dissipation, the fresh optical design enhances light dispersion, and the optional GoPro mount allows for versatile mounting options. With waterproof USB-C charging(cable not included), compatibility with the Infinite Light Power Pack+, and rigorous IPX7 waterproofing testing, this light is ready to accompany you on any adventure.

REAR LIGHT:
The KTV Drive Pro+ Rear is a compact, aero seatpost-compatible rear bike light providing up to 150 lumens and six output modes. It offers up to 20 hours of max runtime and a highly disruptive Daytime Flash mode.

The light utilizes our Wide-Angle Optics lens design to provide 270° of visibility, durable, rigorously tested to IPX7 Waterproofing standards, and an integrated USB stick allows convenient cable-free recharging.

Note: These lights are not being distributed within the German market.
SKU: 1-LED-38P-V137
FUSION DRIVE 500+ FRONT SPECS:
Battery Capacity (mAh):
1400
Dimensions:
82mm, 42mm, 41mm
Features:
IPX7, Daytime Flash, Infinite Light Power Pack+
KTV DRIVE PRO+ REAR SPECS:
Battery Capacity (mAh):
400
Dimensions:
60mm, 41mm, 64mm
Features:
IPX7, Daytime Flash
FUSION DRIVE 500+ FRONT LIGHT MODES:
KTV DRIVE PRO+ REAR LIGHT MODES: