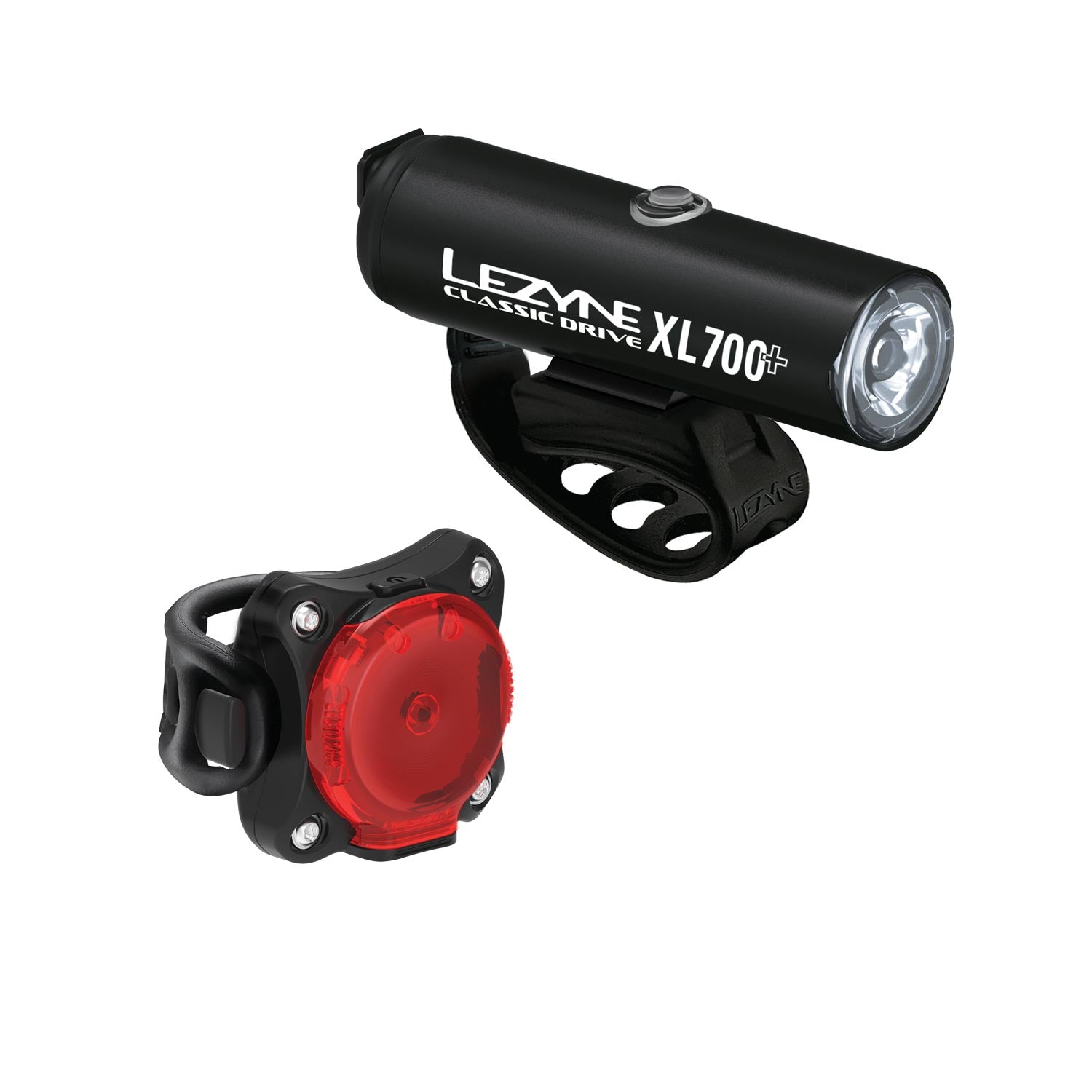 CLASSIC DRIVE XL 700+ / ZECTO DRIVE 200+ PAIR
---
FRONT LIGHT:
A classic bike light with a modern twist, the Classic Drive XL 700+ front light puts out 700 lumens (up to 45 hours of runtime) via a single high-output LED emitter. It's built around a sleep cylindrical housing that offers a compact and lightweight form factor.

Its waterproof USB-C with 2A+ fast charging capability is convenient for recharging(cable not included). The machined aluminum construction ensures durability and efficient heat dissipation. Rigorously tested to IPX7 Waterproofing standards, it is built to withstand various weather conditions. Choose from 7 different output modes, from the highly disruptive Daytime Flash mode to the long-lasting 45-hour runtime in Femto Mode.. The Infinite Light Power Pack+ compatibility offers versatility and extends runtimes.

REAR LIGHT:
The Zecto Drive 200+ Rear is a low-profile, high-visibility light with an impressive 200 lumens of brightness. Its six combined solid and flash output modes offer versatile options for any situation. Its highly disruptive Daytime Flash mode ensures maximum visibility during daylight hours, and the intelligent Power Indicator displays battery runtime and increases side visibility. The light is fitted with a patented 2-in-1 clip and strap mounting system, allowing easy attachment to handlebars or loops.

It is rigorously tested to IPX7 Waterproofing standards to withstand even the harshest weather conditions. With a 650 mAh battery capacity, the Zecto Drive 200+ Rear offers a maximum runtime of up to 35 hours in Femto mode. It also boasts USB-C waterproof charging(cable not included), making it easy to keep it charged and ready to go.

Note: These lights are not being distributed within the German market.
SKU: 1-LED-30P-V537
CLASSIC DRIVE XL 700+ FRONT SPECS:
Battery Capacity (mAh):
3300
Dimensions:
98mm, 27mm, 45mm
Features:
IPX7, Daytime Flash, Race Mode, Infinite Light Power Pack+
ZECTO DRIVE 200+ REAR SPECS:
Battery Capacity (mAh):
650
Dimensions:
43mm, 45mm, 30mm
Features:
IPX7, Daytime Flash
CLASSIC DRIVE XL 700+ FRONT LIGHT MODES:
ZECTO DRIVE 200+ REAR LIGHT MODES: