Fall is here and winter is coming so it makes sense that Lezyne electronics, especially our lights, received a lot of attention and got great reviews from major media outlets in October.  As the days get shorter and darker our popular LED's such as the Lazer Drive and Strip Drive were editor favorites. Our GPS computers also continued to get top reviews.
LASER DRIVE – BIKERADAR
"Lezyne's new Laser Drive is a quality tail light with variable flash/steady settings, a strap that works for any seatpost and a good run time. But the headline feature is the two parallel laser lines that are projected on the ground on either side of the rider. Drivers behind see not only a bright tail light, but a rolling red bike lane surrounding and trailing the rider. The laser lines extend about twice the length of a bike. In addition to the laser lines on the ground, the 250-lumen Laser Drive has a wide lens on the main light for 180-degree visibility." -Ben Delaney of BikeRadar
Read the early review here.
LITE DRIVE 700XL, LASER DRIVE AND OTHER LED LIGHTS – CYCLING WEEKLY
"New this year is the Lezyne Lite Drive 700 XL. As you'd expect, its peak output is 700 lumens, so it's pretty much enough to negotiate unlit roads. The Lezyne Lite Drive 700 XL would also serve as a flexible commuting light; select its lowest 15 lumen output and it will keep shining for a claimed 76 hours…The Lezyne Lite Drive 700 XL is a reasonably compact high-output light with a good range of different lighting options. It's good enough for occasional use on unlit roads and works well as a commuter light too." -Paul Norman of Cycling Weekly
Read the full review here.
"As with most Lezyne products, the 700XL is stylishly designed…The eight modes on offer cover pretty much any type of lighting conditions or terrain. We liked the look of the Lezyne from the start – it's sleek and attractive and comes in a variety of anodised colours to match your bike. Thankfully there's plenty of function to go with the form and we found it very intuitive to operate; there is a mode to go with every type of night riding – even a race mode that is either full or dipped – and the price is very good…Therefore we award the Lezyne Lite Drive 700XL 'best on test'." -Simon Smythe of Cycling News, November 2017 Print Issue
Read the full article here.
"What lights do I need for winter riding? It is a bit more complicated than just sticking on some lights and going for a ride in the dark and that's why companies like Lezyne offer a range of lights to best suit your needs." -Symon Lewis of Cycling Weekly
Read the full article here.
"If you're looking for a rear light to give ultimate visibility, the Lezyne Laser Drive is a good contender. It's got a massive peak output, lots of mode options and shines laser guides onto the road surface to increase visibility and encourage passing at a safe distance." -Paul Norman of Cycling Weekly
Read the full review here.
MICRO C GPS – OUTDOOR GEAR LAB
"Incredibly small and lightweight, the Lezyne Micro C GPS offers more features than its bigger sibling, the Lezyne Super GPS Enhanced, but in a much smaller package and with a color display. At only 29 g, weight weenies will rejoice over this heavily featured unit with an easy to use companion app and ANT+ and Bluetooth Smart sensor compatibility. It's impressive to see how many features can be packed into a model that is this small and lightweight…The Micro C GPS takes home our Best Buy award for being an incredible GPS cycling computer that comes in a tiny and lightweight package at an unbeatable price."  -Outdoor Gear Lab
Read the full review here.
STRIP DRIVE FRONT/REAR – OUTSIDE MAGAZINE
"If you're riding on the road, a good light setup, like the Lezyne Strip Drive Front/Rear Pair ($68), is non-negotiable. That's because studies have shown that daytime running lights, both front and back, can help ensure motorists see and avoid you. With up to 300 lumens in daytime flashing mode, these strip lights (white for front, red for rear) are visible from over a mile away in full daylight. They are USB-rechargeable via built-in ports beneath the weather-sealed caps, and the trim profile and rubber strap attachment mean they'll fit well on any post and bars, even aero models, and transfer quickly between bikes."
Read the full article here.
SUPER DRIVE 1500XL – ROAD.CC
"There's a lot to like about the Super Drive. The build quality is very good, the output is very good, the clamping system is simple and works well, and it's IPX7 waterproof too…VERDICT: Excellent high-power light with an all-night runtime and the perfect mode for road riding." -Dave Atkinson of Road.cc
Read the full review here.
MACRO GPS – THE TELEGRAPH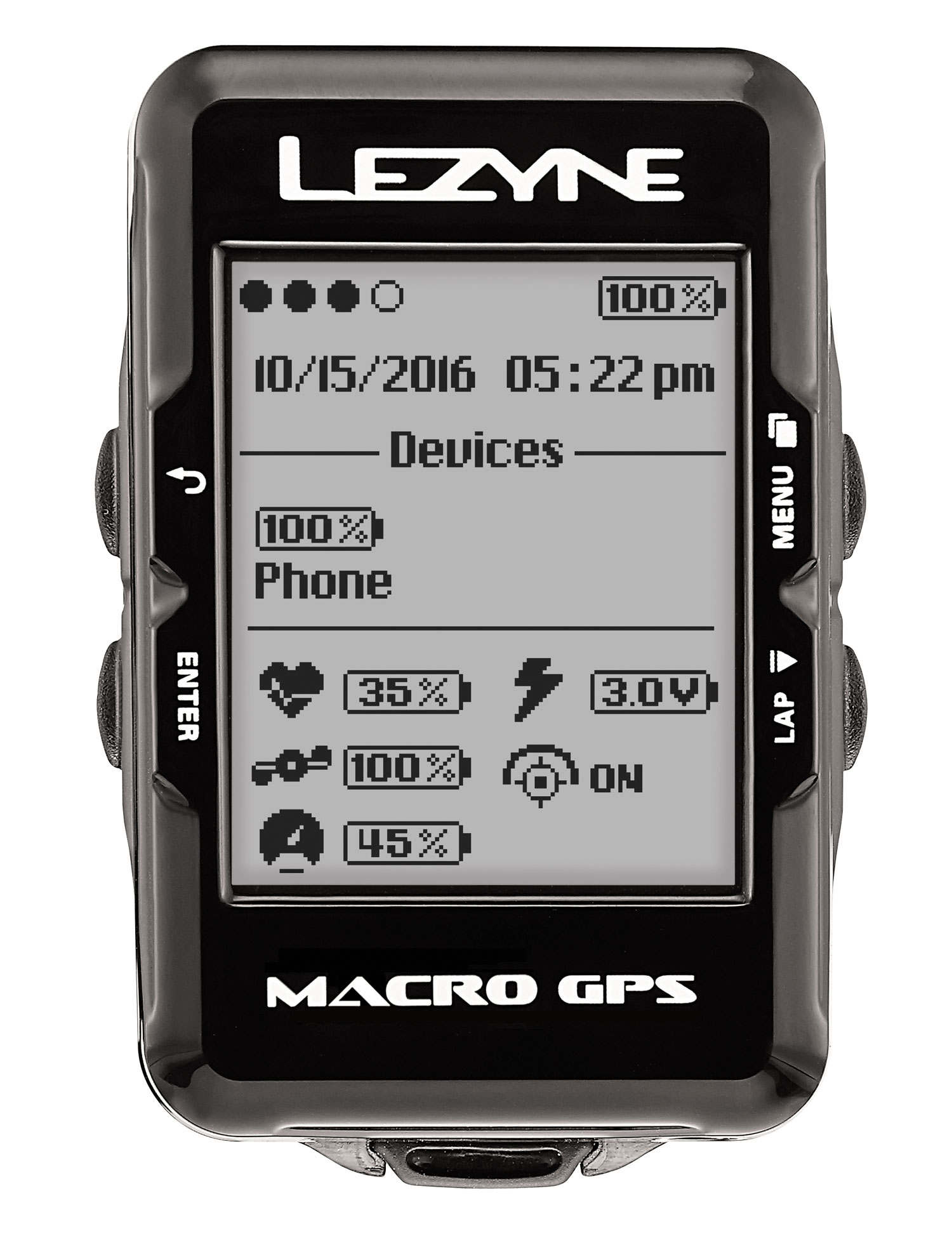 "Lezyne, a dedicated cycling company, have created one of the best affordable options on the market with this computer [The Macro GPS]. It comes with the Lezyne Ally app, compatible with iOS and Android smartphones, providing many of the benefits of more expensive alternatives, like navigation, power meters, heart rate monitors and speed and cadence sensors. And its battery lasts an impressive 22 hours, So you really won't be skimping on quality by choosing this option."
Read the full article here.
CONTROL DRIVE CO2 – VÉLO MAG
Translation: "The Control Drive CO2 makes a great stocking stuffer, and is very easy to use!"